"I chose Yagira at an audition. What made me choose him was his eyes."
Kore-eda Hirokazu.
Yuya Yagira was born in Tokyo on March 26th, 19990. He debuted as an actor at the age of 12 in the film Dare mo shiranai (Nobody Knows.) by director Kore-eda Hirokazu. Based on a true story, where four children are abandon by their mother and decided to stay together without telling anyone, and try to confront their needs and hardship with love and team work. Yuya interpratetes Akira, character that made him the youngest and the first Japanese actor who won Best Actor for the Cannes Film Festival Award.
If adults watch the movie, I want to tell them, 'Don't abandon kids, don't treat them like a toy."

Yuya Yagira.
After winning the Best Actor Award, Yagira went back to Japan, were he was already on multiple magazines covers. For his great effort and contribution to the arts he was presented a commendation certificate from the Culture Ministry of Japan, (the "youngest-ever" to be honor with such award.)
"I am very happy although I wondered if it is OK to be given this big award."

Yuya Yagira.
Shining boy and little Randy is the following movie Yuya did after his decision of becoming an actor. A film based on a true story of a boy's dreams, who goes to Thailand to become the first elephant trainer. Yagira give us another wonderful performance, showing the desires and desperations of the teenager Tetsu.
I was previously unable to decide between a soccer player or an actor, but now I am convince I should work hard as an actor."

Yuya Yagira.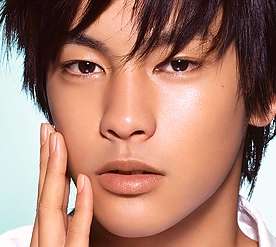 Coming on 2006 is Yuya's new movie. Sugar and Spice. A romance, based on the acclaimed book by Yamada Eimi, Fuumi Zekka. A story of an adolescent who has no purpose in life, until someone comes along and shows him what it feels like to be in-love. The film will feature the firs on-screen kiss of Yuya Yagira.

"…But before I can become a hero, I have to have a girlfriend. An old-fashioned girl—a girl who doesn't dye her hair blonde. So, I will get a girlfriend soon, and I will definitely protect her."

Yuya Yagira.